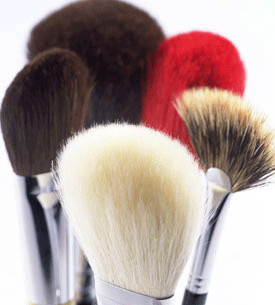 To be able to apply makeup properly, will need a good make up brush. It is an important tool for cosmetic aficionados so that they can get the look that they want. There are a lot of makeup brushes available in the market today, so choosing the right makeup brush is a must. It can make or break your look, and even affect your skin, especially if you have a sensitive skin.
What should you look for when it comes to buying makeup brushes? Below are some tips and guide to help you chose the perfect makeup brush for your use.
 When choosing a makeup brush, choose the one that has a high quality. Although a high quality brush can be pricey, but these kind of makeup brushes can last for a long time. If your budget is limited for a high quality brush, you can check online to look for high quality but inexpensive makeup brush.
 There are two types of brushes – natural and synthetic. If you want something softer and fluffier, go for natural brushes. They are made from animal hairs, and sometimes made from human hair. Synthetic brushes are made from nylon and polyester filaments, making them much easier to clean. Natural brushes are ideally used for powdered or dry makeup, while synthetic brushes are ideally used for wet makeup. Decide which type of brush would suit you and would make you feel comfortable when applying your makeup.
 Aside from the brush itself, you should consider the material in which the handle is made. Most handles are made of wood. Make sure that the length of the handle is just right for you, and that you are comfortable while holding it.
 Make sure that the makeup brush is seamless. Also make sure that the ferrule of the brush is double crimped so that it would be sturdy.
 Should you buy the makeup brush individually, or by set? It would be ideal to buy makeup brushes in set, since it would be much cheaper. You wouldn't know when you will need a certain makeup brush, so it's better to be safe and buy by set initially. In the long run, you may find yourself needing a certain type of brush, or replacing them. It's the time when you can buy makeup brushed individually.
 If you'll be buying brushes by set, you have to make sure that it has the following essentials – foundation brush, powder brush, bronzer brush and eye shadow brush,  eye shadow blending brush, brow brush and lip brush.
 Now that you have chosen the brush that you want, make sure to test it first to see how it would feel on your face. Also check the durability of the brush to see if it will last for a long time.  Avoid buying makeup brushes with blunt edges.
To maintain the quality of your makeup brushes, always make sure to clean them after using them. Keep them in a clean and dust-free storage. Once in a while, run your brushes on a warm water with a little shampoo to keep it clean.